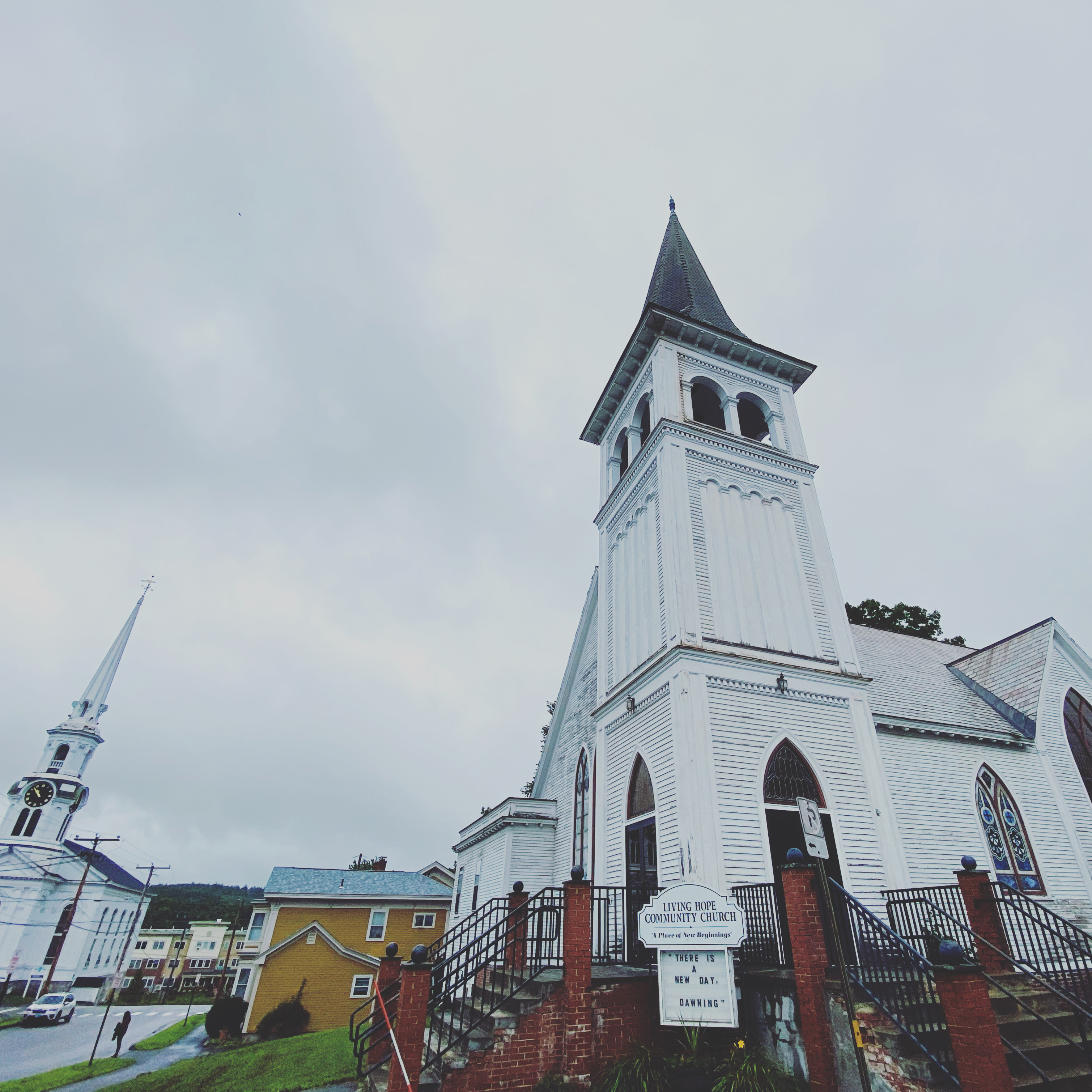 The story of Living Hope Community Church goes all the way back to the year 1848 when a small group of Penacook residents met together to pray and study the Bible. Their vision was to start a new church that would serve and love the community of Penacook in the gospel for the Glory of God. That vision as been a reality for over 173 years and continues today as the Living Hope Community Church.
You can read the early history of our church here
So much has happened on the corner of Community Drive and Summer Street. If only the tall steeple could talk. As you enter our church building it's like stepping back into a time machine to the early 1800's. While the sacredness of our space is more contained in the people that gather than the church building itself, we do love worshiping together in our retro building. The sound of just a few people singing bounces off the high ceilings and stained glass, reminding us that our worship encourages each other and goes up to God as a sweet offering of praise. From the basement level one can see the gigantic New Hampshire Granite stones of the church's one foundation. We try to keep the beautiful pipe organ behind the drum set dusted, but it doesn't really work anymore. The classical sheet music from over a decade of choir practices is kept in little drawers in the back choir room labeled with their year of use. We'll spare you all the other details but to say that your visit to our church would be the highlight of our week. We have people of all ages and walks of life in our church family. What brings us together is the Gospel. And the gospel is this: We are more flawed in ourselves than we ever dared believe, yet at the very same time we are more loved and accepted in Jesus Christ than we ever dared hope. Our mutual love and common faith in Jesus is what gives us an equal standing before our Father God. We welcome you with open arms to join us as we learn to follow our Shepherd King together and experience the Living Hope of a Risen Lord. Because of our name "Living Hope" we celebrate easter every Sunday.
If you live in our community, you are a special guest because you can easily walk to our church. If you are coming from out of town, you will have to find a parking spot in one of the side streets since we don't have a parking lot.
We meet at 10am on Sunday mornings for an informal gathering of coffee and snacks, fellowship, prayer, singing and the study of God's Word. We try to finish around 11:15 a.m. We have children's church and a small nursery for parents. We also have small group studies that meet throughout the week if you are interested in learning more, please get in contact.
To read an interesting history of our church building written on the church anniversary, October 28, 1977 when it was a Methodist church please click here